The Magic Egg and Other Storiespdf/doc/txt格式电子书下载
本站仅展示书籍部分内容
如有任何咨询
请加微信10090337咨询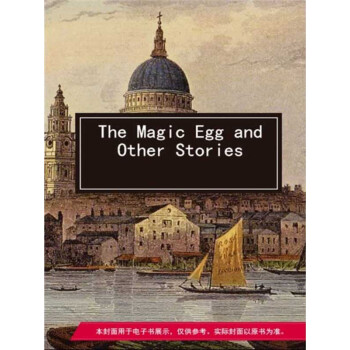 书名:The Magic Egg and Other Storiespdf/doc/txt格式电子书下载
推荐语:
作者:
出版社:
出版时间:
书籍编号:30052044
ISBN:
正文语种:英文
字数:
版次:1
所属分类:进口原版-公版书
全书内容:
The Magic Egg and Other Stories
THE WIDOW\'S CRUISE
The Widow Ducket lived in a small village about ten miles from the New Jersey sea-coast. In this village she was born, here she had married and buried her husband, and here she expected somebody to bury her; but she was in no hurry for this, for she had scarcely reached middle age. She was a tall woman with no apparent fat in her composition, and full of activity, both muscular and mental.
She rose at six o\'clock in the morning, cooked breakfast, set the table, washed the dishes when the meal was over, milked, churned, swept, washed, ironed, worked in her little garden, attended to the flowers in the front yard, and in the afternoon knitted and quilted and sewed, and after tea she either went to see her neighbors or had them come to see her. When it was really dark she lighted the lamp in her parlor and read for an hour, and if it happened to be one of Miss Mary Wilkins\'s books that she read she expressed doubts as to the realism of the characters therein described.
These doubts she expressed to Dorcas Networthy, who was a small, plump woman, with a solemn face, who had lived with the widow for many years and who had become her devoted disciple.
Whatever the widow did, that also did Dorcas--not so well, for her heart told her she could never expect to do that, but with a yearning anxiety to do everything as well as she could.
She rose at five minutes past six, and in a subsidiary way she helped to get the breakfast, to eat it, to wash up the dishes, to work in the garden, to quilt, to sew, to visit and receive, and no one could have tried harder than she did to keep awake when the widow read aloud in the evening.
All these things happened every day in the summertime, but in the winter the widow and Dorcas cleared the snow from their little front path instead of attending to the flowers, and in the evening they lighted a fire as well as a lamp in the parlor.
Sometimes, however, something different happened, but this was not often, only a few times in the year. One of the different things occurred when Mrs. Ducket and Dorcas were sitting on their little front porch one summer afternoon, one on the little bench on one side of the door, and the other on the little bench on the other side of the door, each waiting until she should hear the clock strike five, to prepare tea. But it was not yet a quarter to five when a one-horse wagon containing four men came slowly down the street. Dorcas first saw the wagon, and she instantly stopped knitting.
\"Mercy on me!\" she exclaimed. \"Whoever those people are, they are strangers here, and they don\'t know where to stop, for they first go to one side of the street and then to the other.\"
The widow looked around sharply. \"Humph!\" said she. \"Those men are sailormen. You might see that in a twinklin\' of an eye.
Sailormen always drive that way, because that is the way they sail ships. They first tack in one direction and then in another.\"
\"Mr. Ducket didn\'t like the sea?\" remarked Dorcas, for about the three hundredth time.
\"No, he didn\'t,\" answered the widow, for about the two hundred and fiftieth time, for there had been occasions when she thought Dorcas put this question inopportunely. \"He hated it, and he was drowned in it through trustin\' a sailorman, which I never did nor shall. Do you really believe those men are comin\' here?\"
\"Upon my word I do!\" said Dorcas, and her opinion was correct.
The wagon drew up in front of Mrs. Ducket\'s little white house, and the two women sat rigidly, their hands in their laps, staring at the man who drove.
This was an elderly personage with whitish hair, and under his chin a thin whitish beard, which waved in the gentle breeze and gave Dorcas the idea that his head was filled with hair which was leaking out from below.
\"Is this the Widow Ducket\'s?\" inquired this elderly man, in a strong, penetrating voice.
\"That\'s my name,\" said the widow, and laying her knitting on the bench beside her, she went to the gate. Dorcas also laid her knitting on the bench beside her and went to the gate.
\"I was told,\" said the elderly man, \"at a house we touched at about a quarter of a mile back, that the Widow Ducket\'s was the only house in this village where there was any chance of me and my mates getting a meal. We are four sailors, and we are making from the bay over to Cuppertown, and that\'s eight miles ahead yet, and we are all pretty sharp set for something to eat.\"
\"This is the place,\" said the widow, \"and I do give meals if there is enough in the house and everything comes handy.\"
\"Does everything come handy to-day?\" said he.
\"It does,\" said she, \"and you can hitch your horse and come in; but I haven\'t got anything for him.\"
\"Oh, that\'s all right,\" said the man, \"we brought along stores for him, so we\'ll just make fast and then come in.\"
The two women hurried into the house in a state of bustling preparation, for the furnishing of this meal meant one dollar in cash.
The four mariners, all elderly men, descended from the wagon, each one scrambling with alacrity over a different wheel.
A box of broken ship-biscuit was brought out and put on the ground in front of the horse, who immediately set himself to eating with great satisfaction.
Tea was a little late that day, because there were six persons to provide for instead of two, but it was a good meal, and after the four seamen had washed their hands and faces at the pump in the back yard and had wiped them on two towels furnished by Dorcas, they all came in and sat down. Mrs. Ducket seated herself at the head of the table with the dignity proper to the mistress of the house, and Dorcas seated herself at the other end with the dignity proper to the disciple of the mistress. No service was necessary, for everything that was to be eaten or drunk was on the table.
When each of the elderly mariners had had as much bread and butter, quickly baked soda-biscuit, dried beef, cold ham, cold tongue, and preserved fruit of every variety known, as his storage capacity would permit, the mariner in command, Captain Bird, pushed back his chair, whereupon the other mariners pushed back their chairs.
\"Madam,\" said Captain Bird, \"we have all made a good meal, which didn\'t need to be no better nor more of it, and we\'re satisfied; but that horse out there has not had time to rest himself enough to go the eight miles that lies ahead of us, so, if it\'s all the same to you and this good lady, we\'d like to sit on that front porch awhile and smoke our pipes. I was a-looking at that porch when I came in, and I bethought to myself what a rare good place it was to smoke a pipe in.\"
\"There\'s pipes been smoked there,\" said the widow, rising, \"and it can be done again. Inside the house I don\'t allow tobacco, but on the porch neither of us minds.\"
So the four captains betook themselves to the porch, two of them seating themselves on the little bench on one side of the door, and two of them on the little bench on the other side of the door, and lighted their pipes.
\"Shall we clear off the table and wash up the dishes,\" said Dorcas, \"or wait until they are gone?\"
\"We will wait until they are gone,\" said the widow, \"for now that they are here we might as well have a bit of a chat with them. When a sailorman lights his pipe he is generally willin\' to talk, but when he is eatin\' you can\'t get a word out of him.\"
Without thinking it necessary to ask permission, for the house belonged to her, the Widow Ducket brought a chair and put it in the hall close to the open front door, and Dorcas brought another chair and seated herself by the side of the widow.
\"Do all you sailormen belong down there at the bay?\" asked Mrs. Ducket; thus the conversation began, and in a few minutes it had reached a point at which Captain Bird thought it proper to say that a great many strange things happen to seamen sailing on the sea which lands-people never dream of.
\"Such as anything in particular?\" asked the widow, at which remark Dorcas clasped her hands in expectancy.
At this question each of the mariners took his pipe from his mouth and gazed upon the floor in thought.
\"There\'s a good many strange things happened to me and my mates at sea. Would you and that other lady like to hear any of them?\" asked Captain Bird.
\"We would like to hear them if they are true,\" said the widow.
\"There\'s nothing happened to me and my mates that isn\'t true,\" said Captain Bird, \"and here is something that once happened to me: I was on a whaling v\'yage when a big sperm whale, just as mad as a fiery bull, came at us, head on, and struck the ship at the stern with such tremendous force that his head crashed right through her timbers and he went nearly half his length into her hull. The hold was mostly filled with empty barrels, for we was just beginning our v\'yage, and when he had made kindling-wood of these there was room enough for him. We all expected that it wouldn\'t take five minutes for the vessel to fill and go to the bottom, and we made ready to take to the boats; but it turned out we didn\'t need to take to no boats, for as fast as the water rushed into the hold of the ship, that whale drank it and squirted it up through the two blow-holes in the top of his head, and as there was an open hatchway just over his head, the water all went into the sea again, and that whale kept working day and night pumping the water out until we beached the vessel on the island of Trinidad--the whale helping us wonderful on our way over by the powerful working of his tail, which, being outside in the water, acted like a propeller. I don\'t believe any thing stranger than that ever happened to a whaling ship.\"
\"No,\" said the widow, \"I don\'t believe anything ever did.\"
Captain Bird now looked at Captain Sanderson, and the latter took his pipe out of his mouth and said that in all his sailing around the world he had never known anything queerer than what happened to a big steamship he chanced to be on, which ran into an island in a fog. Everybody on board thought the ship was w
....
本站仅展示书籍部分内容
如有任何咨询
请加微信10090337咨询